HOURS
Lunch
Monday-FRIday 11:30am -4:00pm

Dinner
sunday-Thursday: 4PM-11PM
friday-Saturday: 4PM-12aM
(The bar will stay open later)
BRUNCH
SATURDAY - SUNDAY 11AM - 4PM
GENERAL QUESTIONS OR COMMENTS
ALL ABOUT OUR WHISKEY PROGRAM
The Southern Gentleman is a modern American whiskey bar that focuses on extensive dedication to the wide range of whiskeys that come from distillers all over the world. We have a concentration on American Bourbons and Ryes with over 120 selections for guests to explore. We also feature several Irish, Taiwanese, Japanese, Canadian and Scotch whiskies as well.
Our list has many crowd favorites but also hard to find limited items, local spirits from the Southeasts new distillers, and a few once in a lifetime bottlings that you will only find here. Our list is constantly in movement as we discover new dark liquor that excites us and that we want to share with our Whiskey loving guests and friends. You can follow us on social media for what is new and coming or join our exclusive TSG Bourbon Club to become part of the family. Proper gentleman need to drink proper whiskey, so pull up a stool and let us put a smile on your face.
"Whiskey is for drinking: water is for fighting over", Mark Twain
At The Southern Gentleman, we celebrate every aspect of what it means to be in the South. We graciously welcome our guests to our home to experience genuine Southern hospitality, locally-sourced cuisine, and handcrafted cocktails.
Our menu is a fresh, modern take on traditional Southern fare utilizing farm-fresh produce to bring you appetizers perfect for a cocktail party on our patio or group dinners with customizable menus. The Southern Gentleman also offers an extensive bourbon, rye and whiskey list and can customize private tastings for your group.
The charming environment offers a relaxed, yet polished atmosphere for any event. The expansive space can accommodate up to 150 guests. Perfect for happy hours, groups and celebrations, we will personalize your event to accommodate your every need. We hope to serve y'all soon!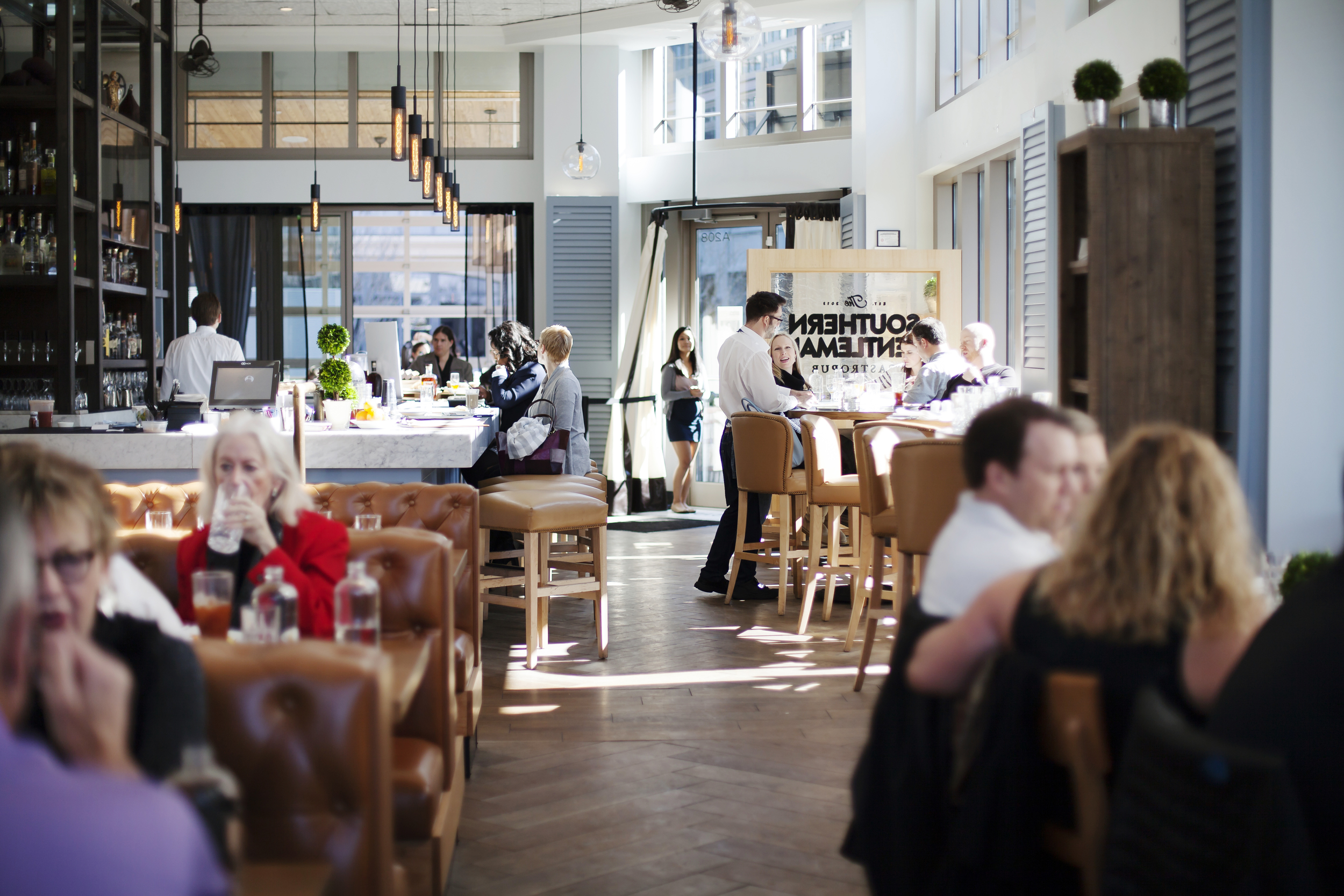 OUR STORY
–
The Southern Gentleman is a Southern-inspired gastropub in The Shops Buckhead Atlanta. The concept celebrates every aspect of what it means to be from the South with a fresh, modern take on traditional dishes made with locally sourced ingredients. The bar program explores the artistry and history of classic Southern cocktails—everything from barrel-aged cocktails to bottled libations to adult beverages on tap, along with New World wines and craft beers and the "perfect" mint julep.
The gorgeous top floor space in Buckhead Atlanta was designed by New York's Lacina Heitler, and features classic, Southern touches done in surprising, modern ways: seersucker window treatments, tufted camel leather booths, vintage plateware, white marble countertops, vaulted ceilings, herringbone floors, dramatic chandeliers, complete with an oversized portrait of Mark Twain painted by a commissioned local artist.
"We want this to feel like stepping into our home," says co-owner Chris Hadermann. "If a friend were visiting Atlanta from New York, we want The Southern Gentleman to feel like the warm, welcoming place you'd want to take them to experience what it means to live the Southern lifestyle—a respect for the familiar traditions, that sophisticated yet unpretentious elegance, but also with a modern edge that makes it exciting and fresh. This is our take on proper Southern hospitality."